Jump Ahead to a
Configuration Topic:
---
Domain Time II Full Client
Version 4.1

Domain Time II Full Client is a system service that can be configured to automatically discover and get its time from Domain Time II Servers, or allow you to specify up to four time sources manually.

The Domain Time II Full Client operates as an excellent time client for just about any time server, but when used with Domain Time II components (Server, Management Tools, and Audit Server), it gains even more capabilities and operates as part of a truly integrated time system.

Launching the Program
---
Once installed, Domain Time II Full Client can be configured directly using its Control Panel Applet. The applet can be configured whether the Domain Time II Full Client service is running or not.
Note: On Vista with UAC enabled, you must Shift+Right Click and choose Run As... from the context menu to launch the Control Panel applet. On Windows Server Core, type in
domtimec.cpl on the command line.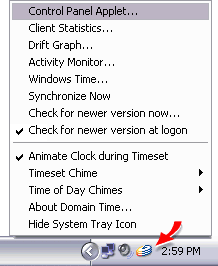 Full Client can also be configured remotely using Domain Time II Manager (included with the Domain Time II Management Tools package).
You may also launch the Domain Time II Full Client applet (and many other installed Domain Time II components) by right-clicking on the Domain Time icon in the System Tray to bring up the context menu. (Not available on Windows Server Core)